For schools
For school children
The adventure park Supervāvere is open and working upon previous booking only.
Please book your visit at least one hour ahead!
Adventure park Supervāvere and picnic in the fresh air is a great relaxation of the learning and is an exciting team building for the class.
Traditionaly at spring and autumn groups of schoolchildren are welcome. Therefore we offer a special group-price
The teacher or other accompanying adult person can enter the park free of charge. The price includes a pair of gloves.
We welcome children and adults of all ages who wish to stretch their legs, test their courage and strength and have a look on the Gauja Valey from above. The visitor must be at least 110 cm tall.
Before going to the Supervavere tracks each visitor is "dressed" in the security system, it is done by the instructor to make sure that everything is fastened correctly. Teacher or another responsible person must complete a park - use agreement with all members' names.
To complete all three trucks one will need 3 hours.
The preice: 6 eur/child
Firefly nights
Unusual adventure in a dark night!
This is particularly exciting because Supervāveres tracks can be passed over in a full darkness, when the senses are even more acute, because often it is not evident how far the ground is and what is still expected to come.
To participate in the Firefly nights the group must be at least 10 persons. By purchasing the ticket, in addition to safety equipment the visitor gets a head torch. The light is bright enough to enlighten the obstacles, beautiful night scenery and the progress of other adventure seekers.
Par papildus samaksu pirms vai pēc atrakciju iziešanas apmeklētāji var sildīties pie ugunskura un cept desiņas vai palikt nakšņot Ozolkalna kempingā teltīs vai namiņos
For an additional fee before or after exiting the attraction, visitors can warm themselves by the fire and fry sausages or overnight at Ozolkalns camping in tents or chalets.
Price: 11,50 eur/child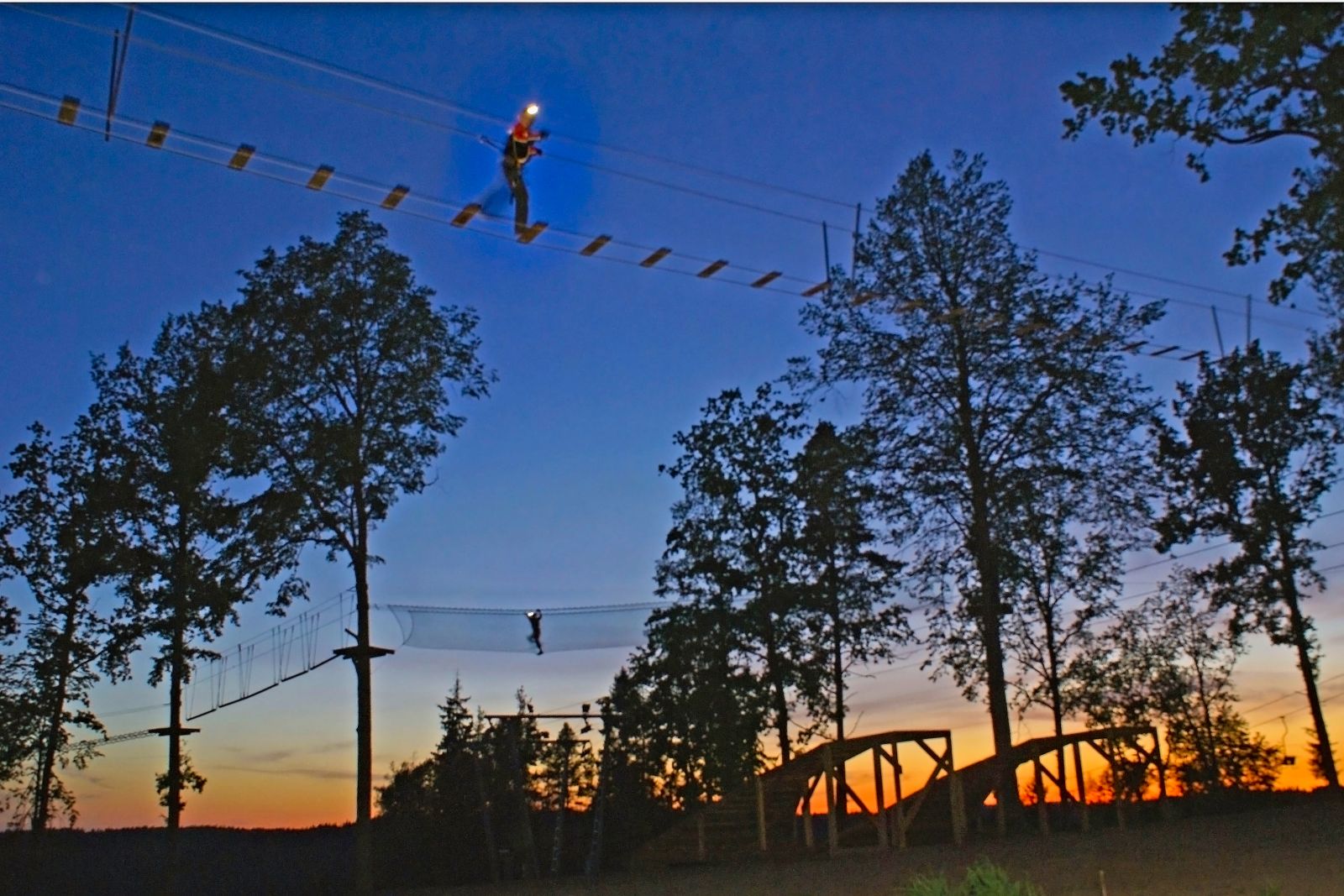 Courageous

journey
Adventure hike in the forest with exciting IQ, ingenuity and dexterity tasks.
Tour is meant for active, fun-loving, excited adventure seekers who wish to spend their time in fresh air and who are eager to learn new and useful things. We offer to spend a meaningful day in the forest of Gauja National Park accompanied by competent instructors.
Price: 7 eur/child